Deep in the heart of downtown Dallas, culture and community converge in a destination called the Dallas Arts District. Here, the city's opera, symphony and theatre companies perform beside three renowned art museums, housed in world-class venues. Thirty-three years into a fifty-year revitalization plan, the remarkable buildings of four Pritzker Prize-winning architects alongside the artistic diversity available at the Dallas Arts District showcase Dallas' cultural treasures.
Ambitious? You bet. Brilliant? Absolutely. Determined? No question.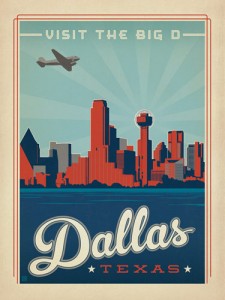 All things considered, there is no more appropriate nickname for Dallas than its self-styled "Big D." It expresses the commitment of the individual and corporate passions and philanthropy that corralled Big Dreams, coalesced Big Desires, and converted Big Dollars to create this beacon for the arts.
Ponder this: $1 Billion (US) in infrastructure; four Pritzker Prize-winning architects – global architecture's 'Oscars'; two distinguished private art collections; one public museum of art; nine venues; six indoor / three outdoor performance facilities.
Plan this: Convert 68 acres and 19 blocks of a light industrial area into an ample arts zone positioned on Flora Street. Add arts venues. Build out a residential community.
Produce this: The largest contiguous arts district in the U.S.A.  Only New York's Lincoln Center follows a close second at 16 square blocks.
 Arts Along Flora Street
The Dallas Museum of Art (DMA), founded in 1903, became the Arts District's anchor upon relocation in 1984.  New York architect Edward Larrabee Barnes created her refined, modernist design. Eugene and Margaret McDermott gifted the corpus of the DMA's vast collection: he, a founder of Texas Instruments; she, as daughter Mary McDermott Cook states, "an art lover and lifetime arts collector."
The DMA's barrel-vaulted building opens onto Flora's western end, and "sets a tone of architectural aspiration" as Dr. Maxwell Anderson, the DMA's Director, assesses it. "The DMA was an inducement to other arts leaders to 'roll the dice' to establish other entities."
Those other entities came onboard over the next two decades.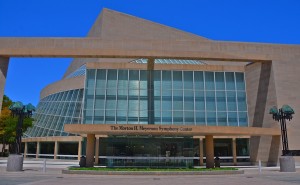 In 1989, the Morton H. Meyerson Symphony Center nestled into its new Arts District home, by Pritzker-Prize winning architect I. M. Pei. His Eugene McDermott Concert Hall houses the 109-year-old Dallas Symphony Orchestra under beautifully overlapping geometric shapes. Renowned for acoustic excellence, The Hall features an overhead canopy to calibrate reverberance.  Ross Perot provided the final $10M gift, and designated the Center's name for his colleague, today called "The Mort."
In 2003, The Nasher Sculpture Center premiered on an entire block in the Dallas Arts District, the world's first Center dedicated exclusively to modern and contemporary sculpture.
Raymond and Patsy Nasher advanced their interest in modern sculptures in the 1960s to include numerous distinguished pieces from Giacometti, Matisse, Picasso, Duchamp-Villon, Moore and Miró, among others.
Pritzker-Prize winning architect Renzo Piano, in collaboration with landscape architect Peter Walker, stunningly interpreted Raymond Nasher's desire for a contemplative and 'roof-less' arts oasis. Piano's Italian travertine marble encases the sculptures with a luminosity rivaled only by the tranquil, sun-dappled Sculpture Garden onto which it opens. This $70M venue is a gift from the Nashers.
In 2009, the Dallas Arts District welcomed the AT & T Performing Arts Center, (ATTPAC) a $354M venue, which debuted both The Margot and Bill Winspear Opera House, designed by Pritzker-Prize winning architect Sir Norman Foster (with Spencer de Grey), and the Dee and Charles Wyly Theatre, designed by Pritzker-Prize winning architect Rem Koolhaas (under Joshua Prince-Ramus.)
The Winspear Opera House hosts its resident Dallas Opera along with a year-long diversity of performances: seasonal Broadway Series interspersed with TITAS' eclectic music and dance (Texas International Theatrical Arts Society) all punctuated by individual shows and headliners.
The Winspear's classic horseshoe-shaped theatre transforms to a modern piece of art itself, encased as it is in a vibrant-red, glass-paneled façade.  Red? That's for opera's passion and the Winspear's heartbeat. Surround this façade with a glass canopy that extends over the pedestrian plaza, spreads towards the Annette Strauss Square entertainment lawn, and reaches to embrace The Mort next-door neighbor. No Parnassian "Arts for Art's sake" here. This architectural dialogue encourages engaging, exploring and experimenting with opera, symphony, art museums and theatre.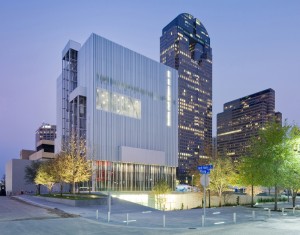 Now, think theatre. And meet the wildly impressive Wyly Theatre, home to the Dallas Theatre Center, and every director's dream venue. The theatre will deconstruct according to the director's vision: move the chairs, rearrange the stage's configuration, fling open the aluminum shutters, become an open-air venue for Arts District pedestrians. Thus, the Wyly liberates the artistic vision. This vertically stacked structure is an icon of modern theatrical design.
Focus next on the Zen-quiet of Asian culture and head to The Trammell and Margaret Crow Collection of Asian Art. Inaugurated in 1998, this $5.5M museum inhabits three light-filled galleries.
The Crow family's Asian expeditions began in the 1970s to source decorative art for their real estate interiors. Business turned to pleasure and inspired their personal collection, now some 7,000 pieces, of which 500 are on permanent display.
"We are a bridge to Asia's arts heritage here in Dallas," states Trammell S. Crow, President of the Crow Family Foundation, who oversees the Collection.
The Collective Activities
Dr. Anderson cites the Dallas Arts District's "sense of collective thinking… as a federation rather than an organization." Together it hosts street fairs and films, stays open late with free admission, and exchanges specialists to cross-reference shows and enhance scheduled activities. With more residences planned to complete the 50-year vision for the Dallas Arts District, this 21st century arts community solidly rocks on.
Helen Kitti Smith, Dallas – Texas, april 2015 – Mozzafiato Copyright